Veröffentlicht von
Jens Ohlig
am Montag, 21. August 2017, 10:24 Uhr
Dieser Beitrag ist auch auf Deutsch verfügbar.
Dr. Georg Schelbert works at the Humboldt-Universität Berlin at the Institut für Kunst- und Bildgeschichte (IKB) as the head of the media library. His project "Durchblick" may be translated as "Through the Looking-Glass" in more than one sense: As it is about glass slides, it literally deals with glass you can see through.  But the project is also about gaining insights from a vast collection of cultural assets, almost like exploring the wonderland hidden in it. Project Durchblick makes extensive use of Wikidata. This kind of data partnership does not come in the form of a data donation, but rather as using Wikidata as a hub for other data collections in order to provide objects in collections with common identifiers.
What is Durchblick all about? What kind of collection is that and how did it start?
We decided to call our project "Durchblick!", as we faced the task to explore a large number of glass slides that had been in use for many decades in the department for the history of art at the Humboldt-Universität and make them accessible again.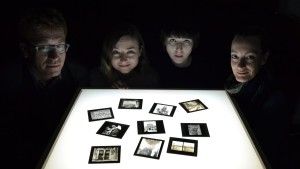 Every institute for the history of art has more or less large collections of slides that are used in lectures and seminars. Primarily, two formats are used: First, the larger glass slides where a black and white film is applied directly to a pane of the format of 8,5 x 10cm that were produced since the late 19th until the middle of the 20th century. And then the so-called small picture slides that emerged from the 35mm color film format as used in movie theaters that have been in use from the 1940s until today.  We focus only on the glass slides with Durchblick. The Berlin collection is one of the oldest and largest, as some of the Berlin professors of art history like Herman Grimm (son of Wilhelm Grimm) or Heinrich Wölfflin discovered and used the potential of projected photographs quite early. Thus, the collection also reflects the interests of famous representatives of the field in research and teaching. Today, after damages caused by wars, a significant amount consists of replicas and additions made in the 1950s, however over the the time also many interesting new themes were added, such as East German or Soviet art, urban development, or even traffic planning. Weiterlesen »